The landing where we started and ended the trip.
The start of the trip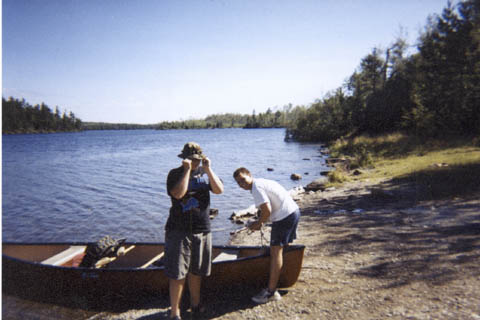 Here's us loading up the canoe to start off the trip. We only saw people heading back to their cars, no one else was setting off into the wilderness when we left. An interesting note, just up the shore behind us was a Boy Scout High Adventure camp, where they take scouts on trips out into the Boundary Waters. We met one such group early on our second day. To read about how we prepared for the trip, and the drive over to Ely (and why we almost died in Superior, WI) check out The Drive There
---
The end of the trip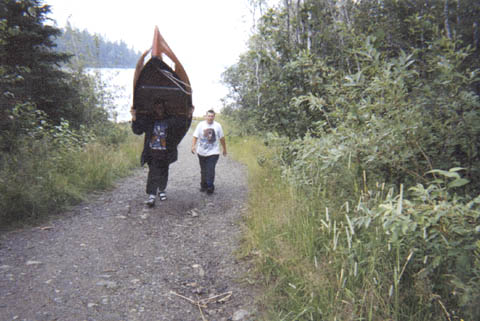 We're heading back up to the car with the canoe. We had survived 9 days and 8 nights in the Boundary Waters! It was time to head in to Hardee's for something besides spaghetti and Mrs. Dash - namely Famous Stars, which just happened to be on sale for 99 cents. So we hooked the canoe up to the car and headed in. To read more about our drive back to Escanaba and see some more pictures, check out The Drive Back.

Just click the 'Back' button on your browser to return to the map you were looking at.